Applied Fire Technologies is not some massive corporation run by rotating boards of directors with rotating missions, all of which have one thing in common: more profits and cheaper productions costs. Fact is, we're pretty much the polar-opposite in every way possible. We are a small family company, driven by the same family, with the same mission, through four decades. This fact tends to make you look at things differently than the big guys do.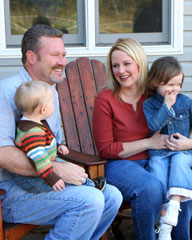 For Example: Could you really build a smoke alarm you wouldn't be willing to sleep under? Or could you build a smoke alarm that your friends and family or even your co-workers wouldn't be able to trust?
How many shortcuts would you take?
If cost is the most important element, how much is a life worth?
That's why our one mission has always been to protect the world from the ravages of home fire... one family at a time. To the best of our ability. Period.
That's why we don't build our alarms to meet the minimum standards. We don't install our alarms to meet the minimum codes.
And while most companies design and build their smoke alarms to meet those minimums, "good enough" has just never been good enough around here. Not for us, not for the homeowners we serve. In 1971, our owner, Ray E. Jones lost his secretary's mother and daughter to a home fire. The look in her eyes when she told him of her loss burned a hole in his heart and he decided that nobody else should have to feel that way. He vowed to bring high quality to a market where the cheapest, least reliable product was the norm. He vowed to bring the same high standards used in other industries to the home fire detection industry. Mr. Jones has often said, "We will never apologize for the quality of our products." This is why we carry the finest and most reliable smoke, heat and carbon monoxide alarms for homes.Our standards are made for the real world. A world where fire can happen when its least expected, from every day living and where families are unprepared because they don't believe it will ever happen to them.
As you might have figured by this point, Crossfire Alarms aren't the product of compromise or the dictates of profit-driven shareholders. There aren't different levels of quality to fit a given price. Fact is, we don't build our alarms to fit a price. We couldn't, not with everything we put into them. Not with everything you get from them. In the world of home fire alarms, this is Crossfire and Crossfire alone.
Crossfire Alarms are the only alarms on the market that comes with lifetime product replacement guarantees. If other smoke alarm companies don't trust their alarms enough to replace their products, why should you?
In the end, what is peace of mind worth to you?
Can you really put a "price" on your life or your family's life? Crossfire Alarms are not inexpensive.They weren't made to be. So compromise somewhere else.